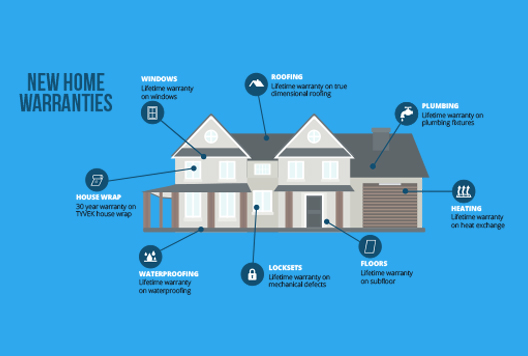 25 Jun

8 Lifetime Home Warranties When You Build New

Building new is not just great for the customizability, but for all the new home warranty benefits! Current new home warranties are great and protect the homeowner for years to come and even for life. When you build new, you are guaranteed to see the whole process and be ensured to live somewhere with no leaks, no structure damage, or any other complications. This is why the new home building process is the best way to go for an overall lasting home.

Repair costs of a home can get pricey! Over time, these prices tend to add up as your home ages. According to the U.S. News and World Report, for a $200,000 home, people spend at least $2,000 annually in repairs. This shows how on average, homeowners spend 1 to 4 percent of their home's value annually on maintenance and repair. So building new can save you many of these costs for over 20-30 years, saving you thousands of dollars.
We offer numerous new home warranties to our customers! Our lifetime home warranties offer 8 specific benefits:
Roofing & Windows:
We include a lifetime warranty on our true dimensional roofing and windows. Our roofing and window design will give you the durability you are looking for. You will not just get the look you want, but the quality material that your home needs.
Waterproofing & Plumbing:
A Lifetime warranty on waterproofing and plumbing is included in your Diyanni Home. Any plumbing needs and fixtures you may need are all included with this warranty. Our team of professionals make sure to build specific to your home.
Floors & Locksets:
Our Diyanni Homes also come with a lifetime warranty on subfloor which ensures that your flooring will be taken care of and maintained in the right way. We also include our lifetime warranty on any mechanical defects which allow our builders to be there for you if any mechanical system difficulties would arise.
TYVEK House Wrap
30-year warranty on our TYVEK house wrap! Are you clueless about what this wrap is? Well it is a great material that helps prevent the infiltration of air and water! It allows the water vapor to escape, preventing any mold inside of your walls.
Lifetime Warranty on HEATING
Lifetime warranty on heat exchange. While when you build new, you home furnace is new, we offer this warranty to help maintain the efficiency and quality of your heating system! This will save you so much in the long run.
So think of all the money and time you will save when building new! The next time you consider buying a home, consider buying new with all of these great new home warranties. Feel free to Contact us to learn more about what is covered in our Diyanni Homes new home warranties!  We will be happy to help you determine if building new is the right choice for you and your family!