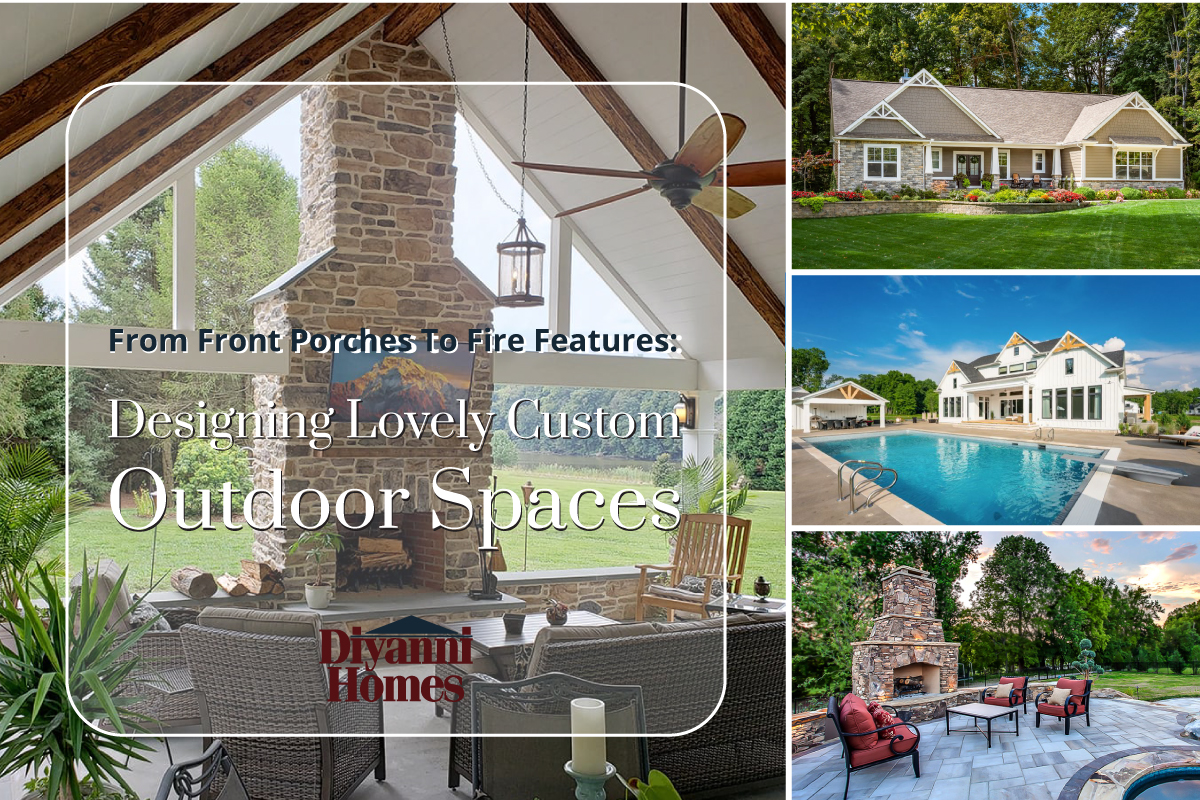 05 Apr

From Front Porches to Fire Features: Designing Lovely Custom Outdoor Spaces

When designing a custom home, it's important not to overlook the potential of your custom outdoor spaces. A well-designed custom outdoor space can provide a beautiful and functional extension of the home, perfect for relaxing, entertaining, and enjoying nature. Here are some tips for creating lovely outdoor spaces that your clients will love.
Think about how the custom outdoor space will be used
Before you start designing the outdoor area, consider how your client intends to use it. Will they be entertaining large groups of people, or is it just for their family's use? Do they want a space for gardening or cooking? Understanding how the space will be used will help you design it to meet their specific needs.
Front porch space
A front porch is a wonderful way to add curb appeal to a home and create a welcoming entrance for guests. It's also a great spot for enjoying a morning cup of coffee or watching the sunset. Consider adding seating, such as rocking chairs or a porch swing, and decorating with potted plants or outdoor rugs.
Finished deck/patio space
A deck or patio is another essential outdoor space for many homeowners. A finished deck or patio can serve as an extension of the living space and provide ample room for outdoor dining, lounging, and entertaining. Consider using high-quality materials such as natural stone, brick, or composite decking to ensure durability and longevity.
Outdoor kitchen space
For homeowners who enjoy cooking and entertaining, an outdoor kitchen is a must-have feature. An outdoor kitchen can range from a simple grill and countertop to a full-fledged outdoor kitchen with a sink, refrigerator, and built-in cabinets. Be sure to plan for adequate counter space, storage, and lighting to create a functional and inviting outdoor cooking area.

Water features
Water features such as fountains, waterfalls, and ponds can add a beautiful and relaxing element to any outdoor space. Water features not only provide a tranquil ambiance but can also help drown out unwanted noise and create a sense of privacy.
Fire features
A fire pit or outdoor fireplace can create a cozy and inviting atmosphere for chilly nights. Fire features can also serve as a focal point for the outdoor space and provide a natural gathering spot for friends and family.
Incorporate natural elements
One of the best ways to create a lovely outdoor space is to incorporate natural elements into the design. This can include plants, water features, natural stone, and wood. These elements can help create a sense of tranquility and relaxation, making the outdoor area feel like an oasis.
Create different zones
Creating different zones within the outdoor space can help it feel more functional and organized. For example, you could have a dining area, a lounging area, and a space for gardening. These zones can be separated using different materials or landscaping features, such as a pergola or a row of bushes.
Add lighting
Outdoor lighting can help create a lovely ambiance in the evening and make the space feel more inviting. Consider adding a mix of overhead and ground-level lighting, as well as lighting along pathways or near water features.
Consider the view
When designing the outdoor space, consider what will be visible from different vantage points. Is there a particular view that your client wants to highlight, or a feature that they want to screen? Careful placement of landscaping and hardscaping elements can help control the view and create a more visually appealing space.
Choose furniture and decor in your custom outdoor space  wisely
Outdoor furniture and decor should be both functional and beautiful. Choose pieces that are durable and weather resistant, but also fit with the overall aesthetic of the space. Adding decorative elements such as pillows, rugs, and artwork can help create a cohesive design and add warmth to the outdoor area.
By following these tips, you can customize lovely outdoor spaces that you will enjoy for years to come. With careful planning and thoughtful design, the outdoor area can be a seamless extension of the custom home, providing a beautiful and functional place to relax and entertain.
For more information speak with one of our amazing design team members today: http://bit.ly/3KymFB2 or call 1-855-DIYANNI