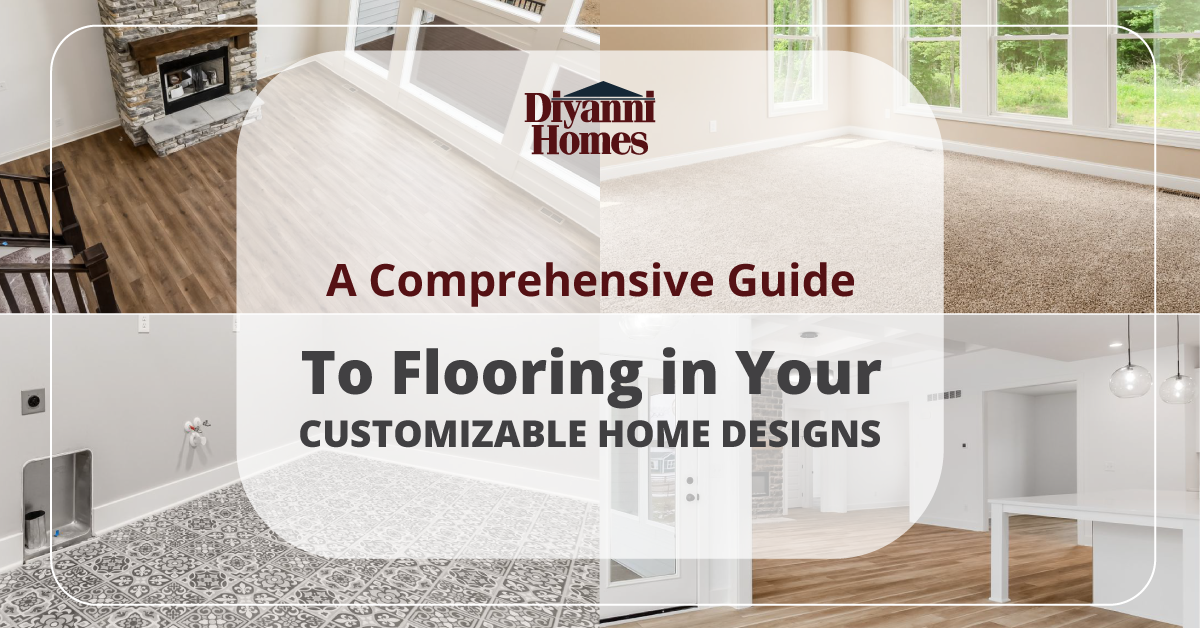 15 Dec

A Comprehensive Guide to Flooring in Your Customizable Home Designs

Welcome to the Diyanni Homes family! We're so excited that you're looking to build your dream home with us. With our Customizable Home Design's and luxury finishes, you're in for the time of your life as you explore all the possibilities. At the same time, we know that so many choices can be a little intimidating, so we would like to help with a little guide to customizing your home design.  

Just because you choose one of our modern home designs, doesn't mean that you are locked into an ultra-sleek home with glass walls, black marble tile, and stark white walls. So, we will guide you through some of the choices you will need to make a home out of our customizable home designs. First, let's look at making a home-wide choice—flooring.  
Flooring Choices for Your Customizable Home Design
Starting from the bottom up, everyone knows that your flooring can really tie your room together with the rest of the house. Like we said before, just because we say modern, does not mean you cannot achieve that farmhouse or industrial feeling you are looking for. Flooring is one of those things that can really help you set the feel for your home, but we also know it's a big choice. First, let's go over the types of flooring you can choose. 
Carpet 
Carpet is versatile flooring that is perfect for many rooms in your home, including bedrooms, offices, and living rooms. Carpet can take several forms: cut pile, loop pile, cut and loop pile. But what does this mean? 
Cut pile carpet is the most common type of carpet because it covers so many of the typical styles: plush, textured, frieze, and cable. This type of carpet is produced by evenly cutting the loops after the fibers have been woven into the matting. Cut pile carpets tend to be dense, soft, and slightly tufted. Plush carpet offers that 'freshly mown lawn' look, and creates a crisp, pristine look to your modern home design. Textured carpet is a bit studier and therefore works better for high-traffic areas of your home like hallways and stairs. It has a permanent curl that will also help reduce the amount of light reflected off the surface, which shows ewer footprints. Frieze is a modern take on an old classic. When it comes to carpets in your customizable home design, sometimes taking some of the old concepts and giving them a twist works. In fact, the weave twist is tighter with the frieze style, which makes it more durable, and you would never know that it's a take on the shag carpets of the 60s and 70s! Finally, cable carpet uses bulkier strands than its plush counterpart. But beware, just like the plush carpet, the cable style is much better suited for low-traffic areas like the bedroom. Mohawk manufactures the cut pile carpet for many of our homeowners and comes with a Lifetime warranty (General Stains).  
Loop pile is exactly what it sounds like. It's created when the loops are intact after it's woven to the backing. While a good majority of loop piles are created for the commercial industry, many people use the residential version—berber—especially in children's rooms. Berber carpet is durable, easy to clean, and blends in anything that children and pets might bring in.  
Finally, cut and loop carpet is a unique combination of the other two styles. This style has a more sculpted look, and if you're looking for something to make your home truly unique, this would be it! The custom floorplan of your dreams could need just a hint of texture, and this is one way to get it! 
Hardwood Flooring 
Hardwood floors. We know them, we love them, and they make a beautiful addition to any modern home design. When making the decision to go with this kind of expense, you should take a few things into consideration.  
First, let's talk about the kinds of hardwood floors that are out on the market: solid hardwood floors and engineered hardwood floors. Typically, hardwood floors are made from either "American" hardwoods like white ash, white oak, and maple, or the 'exotic' woods like teak, bamboo, or Brazilian cherry. The main difference between solid hardwood flooring and engineered hardwood flooring is simple. Solid hardwoods are more expensive, but that is because they are solid, and they also need to be installed over a subfloor. Engineered hardwood floors are made up of multiple layers, with the top layer being the hardwood and subsequent layers alternating between hardwood and other softer woods. Engineered hardwood floors are less expensive, and they are also more durable and versatile. They can be installed in virtually any room and on any surface. The construction of engineered hardwood will give your floors more flexibility when your new home settles, and it reduces the amount of gapping that can occur with solid hardwoods.  
Our customizable home designs are meant to grow with your family, and you will want to think about all the various stages in your life. Hardwood floors are not for the faint of heart. We love Hallmark (Collection Novella) because of the unique look it gives our Diyanni homes, but you do need to consider the maintenance and restrictions hardwood floors present.  
Hardwood floors do not react well to liquid, and prolonged exposure will cause hardwood floors to buckle. If you have pets, you may want to consider another option, because hardwood floors are also subject to scratches. Even with all of that, here at Diyanni Homes, we still love hardwood floors because it's just one more way to customize your home, and if one day you should choose to sell your home, hardwood floors will retain their value! 
Ceramic Tile 
Most people when they think of ceramic tile floors only think about putting it in their bathrooms. With Diyanni Homes' customizable home designs, you can put tile in virtually any room of your home. Tile makes a great durable floor covering, especially for pets and children, and if the ancient Romans had anything to show for their centuries of history, it is that tile can last.  
There are several distinct kinds of tiles: glazed, unglazed, and porcelain. Glazed tiles are the most popular, and they are created when the tile is covered with a mineral deposit and then fired at a high temperature. Then can have many different finishes including high-gloss, semi-gloss, and matte. Glazed tiles can also be customized because they come in every color and design imaginable. They are water resistant, but that also makes them slippery when wet.  
Unglazed tiles have more texture to them. Typically, unglazed tiles are sealed, but if they are not, they will be less water resistant. The textured, unglazed tile will provide your floors with a bit more slip resistance but may be better suited as your backsplash in your kitchen.  
Porcelain is another popular option for your custom floorplan. They are made of the same material as ceramic, but at a different ratio and fired at a much higher heat. Porcelain is the most durable of these three types of ceramic tile. It can withstand a great deal of heat, making it perfect for both the inside and outside of your home.  
Tiles for Custom Home Designs 
For a crisper, cleaner look, many people choose marble or slate tiles to complete their modern home designs. These luxury finishes often cost a bit more than traditional flooring, but they really make a statement in your new home.  
Marble floor tiles leave your home with a beautiful earthy feel. Part of the reason that marble is so popular is that it is a natural stone that has variations throughout the floor, walls or counter tops. Marble floors are also energy-efficient, and perfect for the ultimate luxury finish, heated floors. If you like to go barefoot, then marble floors may be for you! 
Slate is another one of the luxury finishes that you can get with one of Diyanni Homes' customizable home designs. Slate, like marble, will also have variations within the natural stone, but it has much more texture to it. Slate is minimal maintenance and water resistant, so it makes a great option to use indoors and outdoors, and it is also fire resistant! This means slate makes a great option around fireplaces.  
Vinyl 
Do not panic! Vinyl has come a long way since your grandparents used it in their home fifty years ago. It is now an affordable way to get the look of luxury finishes, but at a much lower cost. There are a couple of several types of vinyl: composite vinyl tile, sheet vinyl, and luxury vinyl tiles.  
Composite vinyl is a mix of limestone, filler materials, binders, and pigments, and it typically comes as a tile. The wonderful thing about a composite vinyl tile is that each tile can be replaced should anything damage it. They require less maintenance in general, but because they are tiles, they may not stand up to water as well as a sheet vinyl.  
Sheet vinyl is one of the most economical floors. It is great for rooms that have more moisture like laundry rooms and bathrooms, but it also works great in a finished basement. Sheet vinyl is sold in a large roll, cut to size, and then seamed where needed. If you are looking for a specific design, then sheet vinyl is the way to go! It is made up of polymer, so it can 'print' to look in many assorted colors and designs. Once the polymer is complete, it is backed with a base layer, which is typically a fibrous material.  
Finally, luxury vinyl flooring (LVF) is the newest, and most used option, for flooring in new construction homes. LVF is made in a comparable manner to composite tile and sheet vinyl, but it typically comes in the form of a plank. These planks have come a long way over the years. Now, LVF is made to mimic the look of both stone and wood flooring. They look so similar that your friends will not be able to tell until they step on them! Part of what makes LVF one of the best luxury finishes for your new home is that even though it gives you the look of hardwood and stones, you still get the comfort of a vinyl floor. LVF is commonly installed as a floating floor, which gives you a soft, more temperature-controlled floor that will be easier on your joints in the future.  
With luxury vinyl flooring being one of the most popular floors we install in new homes, it is important to understand that not all brands are built the same. At Diyanni Homes, we only install the highest quality luxury vinyl flooring, like Duratech (Collection Woodlands (LVP)) and Mannington (Collection Adura Max Vinyl Tiles (LVT)). We chose these manufacturers because they hold the same standards of quality, we do for each home we build.  
Next Steps 
Now that we have talked about the types of flooring that can be used with our customizable home designs, you'll need to put together your idea list. First, you will need to consider a couple of things: 
Traffic – does the room have a lot of foot traffic? If yes, you'll want to pick an option that will hold up well, like luxury vinyl flooring or hardwoods. 

 

Moisture – what will the moisture levels look like in this room? If you're anticipating your second bathroom to be for your children, it may be worth looking into one of the more moisture resistant flooring options like tile.

 

Pets – pets can damage your luxury finishes, like hardwood, so alternative flooring like a luxury vinyl plank might be more beneficial for you. That way you can replace sections, rather than the whole floor. 

 

Maintenance – solid surface floors will show more dirt, but they are easier to clean with a mop and broom. Carpets can be good at hiding dirt, but they can also be a little more difficult to clean. Carpets should be swept often, even if you cannot 'see' the dirt. 

 
Choosing Your Options
The biggest piece of advice we have for customers that build their dream home with Diyanni Homes is to remember that they are not alone in this process. We do not expect our customers to know everything about flooring, coloring, styles, etc. We are here to help you through that process. Visit us at your nearest sales center to not only see samples of some of our most popular flooring options, but to also get the advice you need to make your dream home a reality.  
Visit us locations page to find the Diyanni Homes location closest to you or call 1-855-DIYANNI to set up an appointment today!