Build Process - Diyanni Homes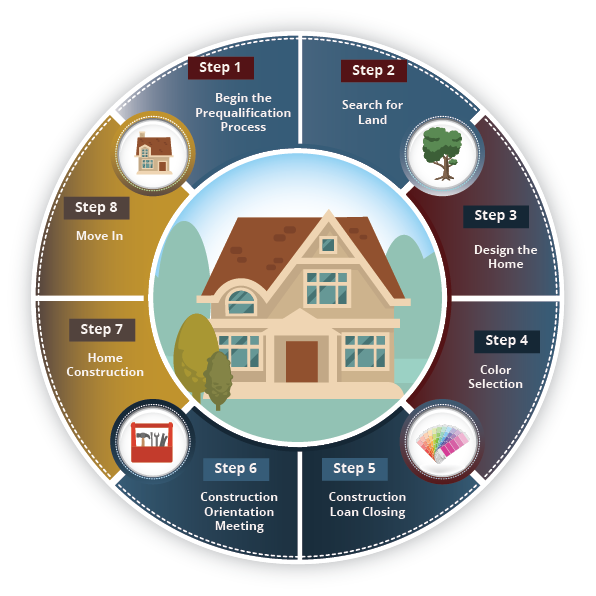 The process of building your new home may seem overwhelming. However, Diyanni Homes has been through it before, and we will walk you through every step of the way!
Diyanni strives to make the home building experience stress-free and fun, helping you create a home for you and your family to enjoy for years to come. Below is a step-by-step guide to our process.
STEP 1: BEGIN THE PREQUALIFICATION PROCESS
First, select a lender for your construction loan. Please review our Preferred Loan Officer page at, preferred loan officers. Once you've selected the lender, they will give you a ballpark idea of how much the bank will loan you. The bank will calculate what kind of loan for which you will likely qualify, as well as your monthly payments.
STEP 2: SEARCH FOR LAND
As a builder, we know a home's location heavily influences the entire construction. We feel the land is the most important piece in the building process, and this is why we take time to help you to locate land that fits your needs.
If you already have land, we will spend time working with you and the property, managing the process of preparing the land to support the home you are going to build.
STEP 3: DESIGN THE HOME
The design of your home should reflect your current lifestyle and your goals. We spend time discussing your present situation and your future plans to get the best understanding of you and your family.
We'll review floor plans, explore new ideas, use examples, and engage in thought-provoking discussions about what really matters in your next home. By implementing your needs into our existing floor plans (or starting from scratch!), we can generate something unique to you.
STEP 4: COLORS SELECTION
When the home design, land and costs have all been reviewed and agreed upon, it's time for you to get the construction loan documents signed and delivered to the bank. While you wait for the loan closing, we will begin the color selection process.
As part of this process, you will visit our Design Studio, and meet one-on-one with a Diyanni design professional. We will help you choose the best materials and details for every part of your custom home. We want you to feel great about your design selections, and excited for building to begin.
STEP 5: FINAL PLAN MEETING
Before the dig date, we will review the final set up plans. This meeting ensures that everything is exactly the way it is supposed to be, and all of the great changes you made have been incorporated into in plans.
STEP 6: CONSTRUCTION LOAN CLOSING
The bank will need some time to go through the underwriting process. Once finished, they will mail the appraisal and release the "Clear to Close." This statement means everything is approved and a closing date is set.
A Construction to Perm loan (C2P) will close before the project officially begins--after which we start the process of obtaining building permits and scheduling a dig date!
STEP 7: HOME CONSTRUCTION
As soon as we receive the building permits, we can begin construction. During the build cycle, you can track progress via the updated web portal, which we update weekly. Through the portal, you can communicate with your job site supervisor. You can also upload pictures and share them with your friends!
STEP 8: MOVE IN
You will be updated on your projected move-in day as the building continues. Our job site supervisor will serve as your advisor in this process.
At the end, we will have a final walk-through. During this time, we will go over the entire home and all its features with you. After a final meeting, we will hand you the keys to your beautiful new home!
Contact Us!:
Contact us today to learn more and start discussing your dream home!